News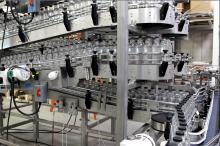 AMT's patented Anysize technology includes the only pneumatic device, available in the world, that will go to any position on its stroke. Today AMT announced the introduction of their compact line of positioners. Up to half as long as the original design any given stroke the compact positioners are made for case conveyor type applications where longer strokes are needed in places with limited space. The extruded body allows for any length stroke, two inches (50mm) to five inches (120mm) so you only need to buy as much as you need.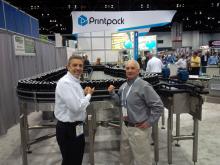 OEM's Owen McCarron poses with Michael Earling of the Garvey Corporation at Pack Expo 2014, currently being held at McCormick Place, Chicago. The Garvey Corporation manufactures accumulation solutions and conveyers for drink packaging. Pictured here is the High Speed Bottle Loop Accumulator.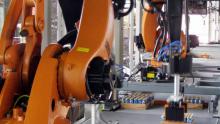 Pack Expo International, which brings together ideas and technologies in packaging and processing machinery, materials, components and containers, comes to McCormick Place, Chicago Nov. 2-5, 2014. 
Pages